Friday Pic to Make You Smile (26)
The Fourth of July is just a few days away, so…
Here's a patriotic All-American girl for today's Friday pic.  😉
Did you know that historians figure that most of the signatures on the Declaration of Independence were actually put there on August 2, 1776?  The Declaration of Independence was first adopted by the American Congress in a closed session on July 2, 1776.  It was then sent back for some revisions.
Independence Day became an official paid Federal holiday in 1938.
If you want to send a patriotic card around the 4th of July, you can get the greeting card below.  But don't limit USA-celebrating just to the Fourth.  Freedom is a year-round pursuit!
TGIF!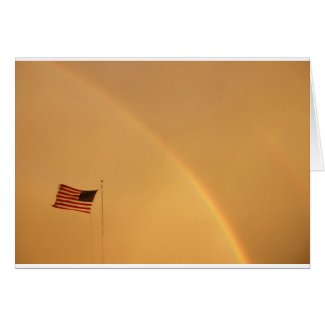 US Flag and Rainbow (card) by ericj9999
Create personalized cards online at Zazzle.