Why not send

a card

for the Fourth of July?
People send greeting cards for most of the other holidays.  Why not commemorate the 4th of July that way, too?  Who should you send it to?  Since the Fourth celebrates the birth of our country, as well as the conception of liberty, how about sending it to a member of the military or a veteran?  Or to your favorite public servant.
 The Fourth is coming up in about a week.  You'd like to be celebrating it by getting together with your family and friends to enjoy hot dogs, corn on the cob, watermelon, and fireworks, but in case you can't, you can still share the spirit by sending this card.
It's got a hopeful image of a US flag waving in the wind with a rainbow (which is completely unmanipulated; the scene is shown as shot, no Photoshop) and you can customize it with your own text if you like.  Click here to order from Zazzle.
Or click the image below to get it (there's a discount for bulk orders) and, on the product order page, click on the "Customize" button to add your own text — or leave it blank and hand-write your own message.
Happy 4th of July!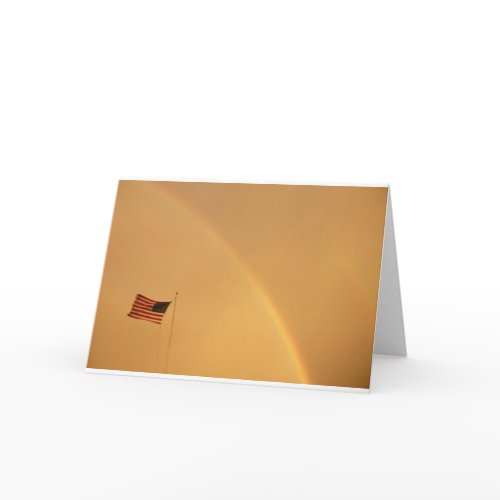 US Flag and Rainbow (card)
by
ericj9999
Browse
US Flag Cards