T-Shirts: Function and Art
From pragmatic, military origins the T-shirt has evolved to become probably the most worn garment in the world today.  From sports to advertising to rebellion to art to sex, their uses and statements are endless.  Find some of the best T-shirts and where to shop for them here.
It wasn't acceptable for a man to be seen wearing a T-shirt by itself (i.e., not under a shirt) until WW II — people became accustomed to seeing photos of GI's going about their duties wearing only T-shirts. 
They didn't become fashionable, however, until James Dean and Marlon Brando sported them on the silver screen. After those pouty, petulant bad boys made it hip to wear a plain white T-shirt, someone eventually got the bright idea of adding colors, and then putting words and pictures on them.  Eventually, women co-opted this formerly male garment (just as they did with jeans). 
Now, it would be hard to find any person in the world who doesn't own a least one T-shirt.  In that respect, we should all pause for a moment of grateful silence for the cotton plant…
I'll list here some of the coolest, most economical, most interesting places to get your tees, whether all you want is that plain white classic that you can wear under a shirt or alone, or you're looking for something cutting-edge from an avant-garde artist.  And if you're an artist yourself, you can design your own.
(And speaking of "economical," you might also be interested in my post on The Most Inexpensive T-shirts You Can Get Online.  Inexpensive does not mean poor quality, by the way…)
Let's start with the basics…
If you just want a regular T-shirt — no mural, no words, no photo — you can find it from a variety of the best manufacturers at Freshpair.com for good prices.  This is the kind of shirt you can wear under a dress shirt, in the gym, or wear to be comfortable on the weekend (make a statement by not making a statement).  Whether you like Russell Athletic, Hugo Boss, Calvin Klein, Diesel,  Hanes, Champion, etc. you can find them all here, plus high-end and specialized brands.   
For those who want something that wicks well and is environmentally friendly (makes a good conversation starter with that cute girl at the gym), try the C-IN2 Bamboo Mesh T-shirt.
Higher-tech, outdoor, and adventure versions
Wearing your old Fruit-of-the-Loom T-shirt from high school is okay if you're working out with kettle bells in your basement, but if you're going on multi-day backpacking trips, river rafting, rock-climbing, serious hiking, bike rides, triathlons, etc., you want something a little more rugged, versatile, and possibly with high-tech fabrics that shed wind but allow wicking, will dry quickly, won't stink after 4 days on the trail, and still look good. 
Plus you might also want to support some of the cool outdoor companies, such as Patagonia, that are working to make more environmentally-friendly clothing and that support other worthwhile environmental initiatives.  And shirts like this also give you cachet with the outdoor crowd.  Rock Creek is an excellent place to find shirts like this for good prices.
Here is one that fits the preceding description: the Mountain Hardwear Wicked Lite Tee (pictured at left) is exactly what you'd need for trail running, trekking, anything really active when you have to shed heat and moisture — and look good doing it.  It also comes in a double version.
On the other hand, sometimes you want a base layer that will help keep you warm in extreme cold-weather conditions.  For that, get the Icebreaker Long Sleeve Crewe:
It's made from pure New Zealand merino wool and is probably the warmest, most breathable base layer T-shirt available.  It's a handsome-looking shirt by itself, too.  People the world over depend on this T-shirt in a wide variety of conditions.
Another of my favorite outdoor retailers is Moosejaw, which has one of the more entertaining websites around (it functions well, but they have a sense of humor, too).
Moosejaw makes its own line of quirky yet functional clothing, including some cool T-shirts (some priced as low as $4.99 — you may as well buy 5).  To the right, for example, is the Moosejaw Lucius Hunt T-shirt, which has a rather boring story associated with it (read it on the site).
And right below is the Moosejaw Dave Stoller Tee (a name you may remember as a character in Breaking Away, one of my favorite movies)…
Art and Theme T-Shirts
T-shirts have become the expressive medium for quite a few rad artists, not to mention more commonplace sentiments related to sports teams, products, political persuasion,  pop culture, causes, bands, movies, event commemoration, humor, and just plain offensiveness.  Here are some of the best and most interesting outlets for cutting-edge creativity, as well as fashion and personal expression of diverse types.
Artsprojekt
Artsprojekt is a collaborative global artists project put together by Zazzle.  They've collected many interesting pop and fine artists to design products, offering wide-ranging styles and images — from pin-up to punk — on a variety of products including T-shirts.  Browse some of the eye-opening designs.  Here are a couple to whet your appetite…
Check out the latest from Mildred, whose twisted imagination is both humorous and slightly disturbing.
Another interesting guy is Monty Montgomery: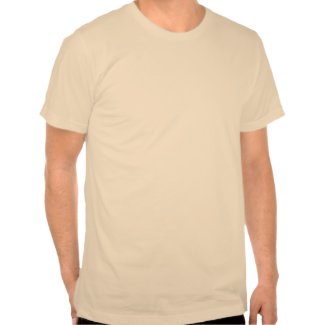 "Comfortable Tunnel" by montymontgomeryart
Karmaloop
Karmaloop is one of the the edgiest online retailers of underground, pop, art, street, and fashion T-shirts.  Since their advent, they have become legendary among creative types, the disaffected, the marginalized, the hip, and the radical (among others).  Here's how they describe their beginnings:
"Karmaloop was founded in 1999 to battle the evil forces of McFashion.  In a world populated by Abercrombie Zombies, Karmaloop was created to provide a universally accessible alternative — a boutique to outfit cutting edge culture.  Plus, it seemed like it would be fun to start a web site & get free clothes."
Here are some examples.  This is the Peace Guard Tee in black, by Obey: 
And to the left is the Palm Reader Tee by Bloodbath.
And here is the 23 T-shirt, Space Jam:
There is an insane amount of stuff at Karmaloop to browse through and, as long as you're not an uptight bourgeoisie, something for everybody.  You can get some cool merch for your lady there as well.  For example, get her (or yourself) some Elephant Print Suspenders from Freshness:
You'll also want to see what deals are available at Karmaloop now, so…
First, when you go to their homepage, look at the banner at the top of the page — they're usually offering some kind of discount there, or look in the left sidebar.  (For example, as I'm writing this the standard deal is free shipping on orders over $60, and $20 off on orders over $120.  Note the coupon code to use at checkout.)  If you want to see all the sale items for guys, click the link below:
Karmaloop is frequently offering some kind of deal, so check their site often when you're shopping for hip T-shirts — or whatever.
Zappos (they do it all)
Zappos is best known as a pioneering online retailer of shoes but they have expanded their offerings quite a bit since their beginnings in 1999 ("Zappos" is a play on "zapatos," which means "shoes" in Spanish).  By 2008, they had grown to $1 billion in annual sales, mostly by focusing relentlessly on great customer service (they offer free shipping both ways and a 365-day return policy).  They have an outstanding variety of wearable items now, including T-shirts, from some of the top companies around the world.  From street/fashion (DC, L-R-G, Alexander McQueen) to sports (Adidas, Puma, Asics), they cover a broad spectrum of style and functionality.
Here's the $20 DC Star Tee (includes 6% organic cotton): 
And to the left is the $245 DSQUARED2 Classic Fit T-shirt — Masterful Mechanics.
And there's everything in between.
If you're not sure what sort of outfit you want to put together, they even offer stylists' advice regarding various clothing combos, including trendy, outdoor, athletic, and casual.
Here's a video where Zappos folks discuss their culture, which is a refreshing departure from most of the corporate-drone ambience in today's business world.  (In the video, note the kind of shirt CEO Tony Hsieh (pronounced "shay") is wearing.  Heh.)
BeWild
You know that any site that offers a "rude and offensive" category of T-shirts must be all right, and that's the case with BeWild — a spunky company that offers an oddball collection of merchandise that, if it has any unifying principle, is wild and quirky.  Where else, for example, can you find such a selection of UFO pants, Zippo lighters, and hair dye?  They do not skimp in the T-shirt selection, either — in addition to rude and offensive, you can find humorous, delinquent, redneck, military, religious, gay, and football T-shirts, not to mention print-your-own-message, among others.
Here's the Hustler "OG 4 Life" T-shirt from BeWild.  Larry Flynt is interesting, you could say pretty much an original gangsta.  He said, "Life is short, and there's precious little time to fool around.  We rob ourselves when we submit to diluted entertainments, buy products that lack solid integrity, and settle for second-rate gratification."  So don't do that.  (That's not what this site is about, anyway.)
Here's something a little different — the Sound Equalizer Rave T-shirt with Sound Sensor.  It's got a built-in graphic equalizer and the colors pulse as they respond to ambient music.  The T-shirt
is powered by a battery pack in a hidden pocket.  Fun for clubs or any music venue (yeah, try it at the symphony with a bow tie).  They have a bunch of different designs for this technology-cum-T-shirt if you prefer something besides bars.
BeWild also has a Xzavier Da Grind store for T-shirts and other clothing — some pretty rad stuff based loosely on renaissance and battle motifs.  Below on the left is the Xzavier Da Grind "Gilded Union" T-shirt and on the right is the "Mystic Grand Eagle." Xzavier Da Grind has many artistic designs — to see others, look for the link in the right sidebar on the BeWild site.  The prices are reasonable, too.
Eric CJ Designs (I admit, I'm biased toward these)

Here are three T-shirts (among several) from my personal store on Zazzle, Eric CJ Designs.  These can be customized on many different T-shirt options, as well as other products.
BudK
BudK's motto is "Get The Edge."  They're best known for swords and knives (including fantasy designs), daggers, ninja weapons, self-defense gear, and the like.  However, they have a fair amount of apparel, too, including both short-sleeve and long-sleeve T-shirts and hoodies.  As you might imagine, the shirts' graphics have a rather intense, pugnacious quality about them.  But if you like that sort of thing, they have a good selection at low prices.
To the left is the Nightshade Black Metal T-shirt.  You can get it in any color, as long as it's black.
And here's the Tiger Night T-shirt.  This shirt might scare
somebody.  Other designs include werewolves, regular wolves, POW shirts, the grim reaper, snarling dogs, handguns, cocktails, and so forth.
Overstock.com
If the thousands of T-shirts available at the above sites don't quite do it for you, then check out Overstock.  The strength of Overstock is that they have a pretty wide-ranging selection of shirts at ridiculously low prices.  For example, try a Majesty & Royalty Allover Tattoo T-shirt for just $24.99 (regularly $79.50).
Or a 6-pack of Knocker 100-percent cotton  Crewneck T-shirts for just $26.99 (that's less than $5 per shirt). 
Overstock has many manufacturers to choose from, including Los Angeles Pop Art, Ed Hardy, American Fuel, Morphine Generation, Tap Out, Toxic Fish, and Paul Frank.  Plus they offer $2.95 shipping on any size order.
Finally, though there are a lot of cool T-shirt manufacturers, why just rely on them?  Why not try designing and customizing your own T-shirt?  Click on the Zazzle link below to get started.

Explore the benefits of Monark Membership at Karmaloop by clicking on the banner below:
Zappos always has free shipping both ways — and some of the best customer service online: