The Best Zombie Books to Get You Started Enjoying the Living Dead
Zombie stories are not just for Halloween anymore.  Zombie fiction has hit the big time.  Here is how to get a jump on enjoying the literature of the living dead…
I was going to begin by saying that all things zombie are enjoying a renaissance, but "renaissance" translates to "rebirth" and somehow that doesn't seem quite appropriate.  Maybe "remortaissance" would be better.  Bottom line, zombie stuff of all kinds is experiencing a vogue, but zombie books especially are thriving.  (Sure, the movie Zombieland is out now and doing pretty well, and George Romero's films remain popular, but zombie novels have been sprouting up like mushrooms in recent years.)  Bookstores now dedicate entire display tables to zombie fiction — a merchandising approach that, among the "monster" genre, used to be reserved only for vampires.  When a sub-genre of horror receives its own dedicated shelves and end-racks in bookstores, you know it's arrived.  (Or dearly departed, as the case may be.)
Why now?  Why are zombies popping up like zits on the forehead of our cultural psyche?  Perhaps it's a sign of the times.  Perhaps there's a sense of creeping destitution spreading across the land.  Zombies personify and objectify anxiety.  It's no coincidence that zombie stories began to arise in the U.S. in the 1950's, and that Night of the Living Dead struck a nerve in 1968.  The government had been telling us to worry about hordes of communists on the march and Soviet nuclear weapons for two decades and then we began to suspect that something might not be quite right with our own government during the Vietnam War.  Nowadays, it's terrorism and the economy we're supposed to be worried about — two big, amorphous threats that are hard to palpably grasp (but again, promulgated by a government that prefers its citizenry to be fearful, and therefore manipulable).  In contrast to theoretical threats, it's easy to spot the menace of a zombie shambling toward you.  You feel somehow better when you can actually see the threat.
Alternatively, maybe zombies fascinate and horrify us because they've got one foot in the grave — as do each of us.  But with zombies it's objectified:  our fate is standing there for us to see.  I mean, they're already dead.  On the other hand, maybe we like them because they want us so badly (albeit only for our bodies), and everybody wants to be wanted.   ("Brains!")
Zombies are also perversely reassuring because they give us something tangible to fight.  And not something too tough — they're sorta easy to kill.  There's something satisfying about mowing them down like nine-pins.  A zombie problem is simple and straightforward to solve.  You just cut off the head.  Or set it on fire.  Any rube with a machete, a chain saw, or lighter fluid and a match can take on a zombie.  Afterwards, you go on about your business.  It's comforting and convenient.
So, what are the best books to launch you successfully into this grisly yet fun genre?  (And what about zombie fashion?)
It was the book The Zombie Survival Guide:  Complete Protection from the Living Dead, by Max Brooks that really got the ball rolling in the arena of zombie books in 2003.  It was a sleeper hit, and just a few days ago the publisher announced that the book had passed 1 million copies in print.  That's reassuring.  It's good to know so many people are up to speed on zombie eradication procedures.  Brooks's book — more of a how-to guide than a story — managed to pave the way for the plethora of undead novels that followed.
I admit, I haven't gotten into a great deal of zombie books yet (movies are another story).  I'm still sort of a vampire guy.  But you know who has gotten into them?  My GF (Wonder Woman).  Wonder Woman has read a ton of zombie books — a ton.  She is also smart, well-read, picky, and a writer herself, so if she likes a book, it's gotta be good.  I asked for her picks of the top 5 zombie novels of all time.  She gave me 6 (she couldn't narrow it to 5).  I used her recommendations as a jumping-off point for the reviews that follow.  These books will enable you to begin a rewarding journey into the world of ambulatory rotting flesh:
World War Z is Max Brooks's wildly popular follow-up to The Zombie Survival Guide.  It spent 4 weeks on the N. Y. Times Best- Seller list.  It even has a pretty extensive Wikipedia page.  It is known not only for its engrossing narrative but for its stylistic innovation of presenting the story as a series of oral histories of the war against the zombies — the one that nearly made humanity extinct.
If you like the type of zombie scenario envisioned by George A. Romero (Night of the Living Dead; Dawn of the Dead) then Day by Day Armageddon, by J. L. Bourne, should offer just the kind of zombified world you'll relish.  Written by an active-duty military officer, this story has been described by New York Times bestselling author Brad Thor (The Last Patriot) as "…hands down the best zombie book I have ever read."  Gabrielle Faust, on Fearzone.com said:  "It is a unique anthropological and psychological study on the individual's ability to adapt…"  That may be, but don't worry, the entertainment factor is anything but academic:  it's been described as "gripping, chilling, raw, and crazed."  Oh yes — there's a sequel coming along, too:  Beyond Exile.
Eden, by Tony Monchinski, is praised particularly for the quality of the characters created and for the tale of a tragic hero in a post-apocalyptic wasteland overrun by ravenous brain-eaters.  One interesting fact about this book is that it was originally self-published by Monchinski and it found an audience and was eventually picked up by Permuted Press, publishers of horror, zombies, science fiction, and apocalyptic fantasy.  (Imagine being an editor there.)  That brings me to one other point — some reviewers have pointed out that this book has a fair amount of typos and whatnot.  Not that it spoils the story, but if you're obsessive about good copy-editing, you might get a tad annoyed at times.  But you're not like that, are you?  Zombies will still relish eating your internal organs, whether you're a good speller or not.
Z. A. Recht's books have been described as "gripping you in a way you have not been gripped before."  Hmm.  See what all the fuss is about with the first book in his series, Plague of the Dead (the Morningstar Strain).  It's a well-paced story, with good action writing and all the zombie high- (and low-) points you could wish for.  This book was selected in July, 2009 as the "Zombie Book of the Month" by Midnightpodcast.com.  It will be followed by Thunder and Ashes.  An interesting thing to note is that Z. A. Recht has demonstrated a willingness to respond to online customer reviews, even negative ones, for Plague of the Dead.  So, unlike his villains, he's a gracious and thoughtful fellow.
Down the Road:  On the Last Day, by Bowie Ibarra, is actually the followup to his first "Down the Road" book.  It's probably the better of the two, and stands alone fine.  For those who like their horror graphic, you'll find it here.  Some sex, too, which you don't always get in zombie tales.  And there's a story element about the U. N. setting up a new government in a zombie-ravaged world and how a small Texas town stands up to the "one-worlders."  Some good stuff, right there!  You also get musings on the benefits of gun ownership — not an uncommon theme among zombie cognoscenti.  But again, plenty of graphic, intestine-pulling gore and action.
Kim Paffenroth's Dying to Live:  A Novel of Life Among the Undead could be considered, as one reviewer put it, "…the philosopher's guide to existence after a zombie invasion."   If that philosopher has to regularly drive sharp objects into zombie skulls, that is.  This book has been called "disturbingly brilliant in its realism," and that reading it is like "eating scary candy."  Paffenroth brings a background as a religious studies professor to this tale of a mostly-lone survivor in a horrifically-changed world.  So you get some religion and some allusions to Paradise Lost along with the mayhem.  On Fearzone.com, Gabrielle Faust writes that Dying to Live is "by far the best zombie novel I have ever read!"
(For the sake of thoroughness, I should also mention Pride and Prejudice and Zombies, which has been loitering on the best-seller lists for the last several months.  It is a goofy parody, having little enough to do with the actual reality of animated corpses.  It is a silly book.)
So, there you have it:  an undead reading list of which to be proud.  This will get you started in style in the expanding world of zombie gore and lore.  Just the sort of stuff to be reading now that the nights are getting longer…and longer…an–
Oh, yes, what about zombie fashion?  Time for T-shirts…
…Which are a little different than books (but not too much, because they've got stuff written on them).  First, we have this charming guy:
He's a zombie, of course, with all the malevolent motivation and putrefaction that that implies.  He's just a bit more cheerful and optimistic about it than most.  That is, he still wants to eat your spleen — and so much the better if you're alive and twitching like a cheerleader's pom-pom as he does — it's just that he pursues his zombie business with a little more zest and verve than your run-of-the-mill reanimated character.
He wants to be your peep.  Take his likeness into your daily life as a reminder that the world is always decaying slightly around the edges.  Smile at that and you can smile at anything.
T-shirts with Zombie — get 'em before they get you…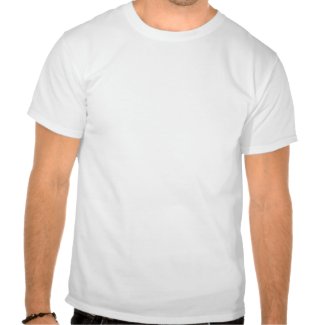 Zombie can

crump
by
ericj9999
Shop for
shirts
online at

Zazzle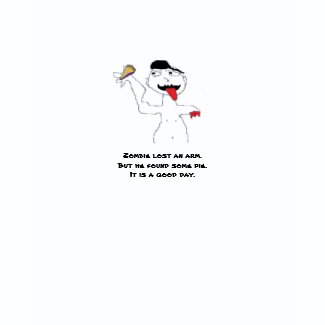 Zombie lost an arm. But he found some pie.
by
ericj9999
Shop for a
shirt
on

zazzle

.com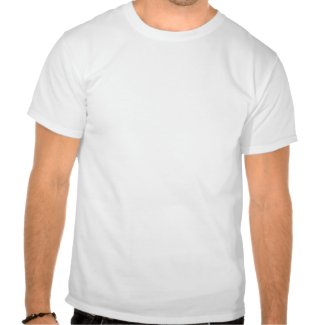 Next, Zombie will eat your foot
by
ericj9999
Make a
custom tee shirt
online at

zazzle
To wrap this post up, we need a good zombie dance number.  So here you go…